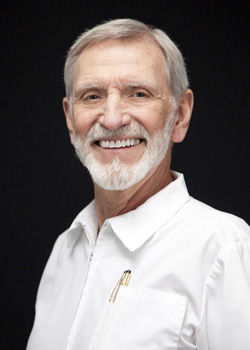 Dr. Bruce Born is the patriarch of the family, being the first of 5 Chiropractors. (Something he was always proud of until he found out that patriarch means "old man".)
In addition to his Doctor of Chiropractic Degree (D.C.), he has earned a Bachelor of Arts Degree in Humanities (B.A.). In 1972 he was certified as an Internist by the American College of Chiropractic Internists (F.A.C.C.I.) He is a certified acupuncturist and also is board qualified in Applied Kinesiology and Roentgenology. He is  certified in the Activator Methods Chiropractic Technique and adjusts each of his patients with this gentle instrument technique. 
"In 1970, when I first became aware of Applied Kinesiology most chiropractors scheduled Thursdays as their "day off." I bucked the trend and scheduled Tuesday as my day off. This allowed me to spend my day off in other doctor's offices, watching and learning from them. My main teacher was the "founder" of Applied Kinesiology, Dr. George Goodheart. I spent many a Tuesday in his office following from room to room and learning new and exciting ways to get to the cause of patient's problems.
"After a while, because his office was always overbooked for several weeks in advance, patients calling his office needing immediate care were referred to my office. This meant I had to work diligently to satisfy the obligation Dr. Goodheart presented and resulted in my learning even more!
I now use Applied Kinesiology on every patient I treat. As Dr. Goodheart observed, weakness of any muscle, causes the opposing muscles to contract, thereby causing pain. When a muscle contracts this way, it isn't the tight or contracted muscle that needs help, it is the weak muscle that needs to be strengthened thereby restoring muscle balance and relieving secondary muscle spasm. Knowing, and using this, gives me an "extra edge" when it comes to finding the cause of a patient's problem.
I have never stopped studying, and have been treating patients and teaching for more than 50 years. I'm now starting to realize that I am an old man!"
Dr. Born