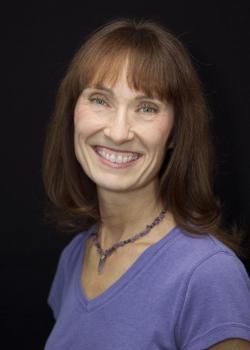 Ever since I was a young girl I was always walking up behind people I knew and rubbing their shoulders. Everyone would tell me I was really good at it and that I should go to school for massage. Back then I didn't think it was a "real" profession. Now I know better!
My journey through many professions brought me to massage in an unusual way (it's funny, but everything happens for a reason). In the early 80's, my mom had a breast biopsy and they found some cancer cells. She chose radiation therapy and the doctors felt they'd eradicated the cancer. About 10 years later she developed soreness in the area of the biopsy that radiated down her arm and into her fingers. When it bothered her, she would ask me to "rub it". Now up until then, all of my training and background was office/business oriented - and I didn't really know what I was doing, but she said it was helping.
Then the other side of my brain kicked in and I started researching - trying to find out how to help her more with massage. And wouldn't you know it - everything I read told me not to massage a person with cancer because it would make the cancer worse. And that's kind of scary - especially when you're dealing with your mom! (New research proves how much massage CAN HELP a cancer patient).
Well, with much encouragement and financial help from mom, I found Irene's Myomassology Institute and enrolled. I graduated in 2001 - and at 42 years old I finally figured out that I wanted to be a Myomassologist when I grew up!
After graduation, I had many friends and family members who agreed to see if massage would help their health and so my independent practice took off. I truly believe that the body can heal itself if given the right tools. It's up to you to embrace your good health by choosing the tools that will help you the most. Check out my website at www.EmbracingHealthCenter.com to find more ideas to add to your toolbox of health.
My journey since then has taken me back to Irene's in 2002 as a classroom Apprentice and since 2004 as the Business Procedures Instructor (when I was in high school I wanted to become a teacher, but never went to college to pursue that degree. Again - everything happens for a reason and here I am, teaching!) I am currently studying to become certified in Iridology, Aromatherapy and Herbal Consulting, and of course continuing education for massage. I love to learn - and am proud to share this knowledge with you.
I'm proud and honored to have my practice located inside the Chiropractic Natural Health Associates building in Southfield since 2008. Working side by side with three chiropractors and a naturopath allows me to expand my knowledge and help you more.
Myomassology is truly a 'real' profession. Whether you're looking for stress relief, reduced pain and inflammation, improved circulation or immune function, better range-of-motion or just plain old relaxation, massage can help. Call for your appointment today!